Over $150M in sales & 48M+ products sold
In 1984, Techni Ice was founded by Graeme Reberger and is known for its legendary, internationally awarded products used by everyday campers, government departments, and huge public companies like Coles, Zoetis, Qantas, and Jack Daniel's. The company stays true to its vision – COLDEST – LONGEST.
Techni Ice is the brand behind the Australian-made Reusable Ice packs and world-class ice boxes found everywhere - from family coolers and chilling beverages on the best airlines, all the way to Coles that require superior thermal performance for home deliveries.
Wherever there is a chilling need, Techni Ice has supplied the solution. From hardcore camping to champagne-popping glamping; from emergency aid to Covid vaccination rollout.
Why waste water when you can reuse Techni Ice?
Our mission is to help people reuse water and therefore solve problems around drought and global water waste.
Techni Ice has helped save trillions of litres of water already and will continue to increase this dramatically (with your support). At a time when many countries are in severe drought and will almost completely run out of water, Techni Ice has stepped up to lend a helping hand.
Techni Ice is the brand behind the big brands! You may not know it, but it's likely you've used our products. With an impressive corporate and government client list in Australia and overseas, our well-established and commercial-grade products have built a solid foundation that we can use to dramatically increase our customer base across the world.
To unlock this growth potential, we're encouraging fun-loving Aussies to join the new Cold War – safe & sustainable, award-winning ice chests & cooling packs, for every need. Chilling, isn't it?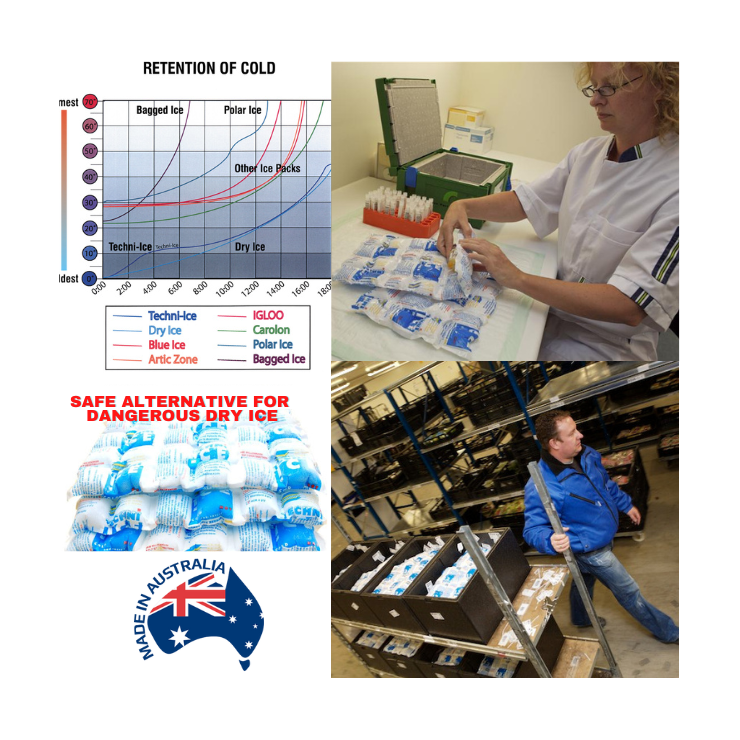 Game changing safe non-toxic reusable dry ice replacement
There are some things that just must be at the right temperature – beer (of course), foods (naturally), and medicines (like the Covid vaccines).
 
The challenge for businesses and consumers is how? You could use:
Regular ice – but that wastes valuable water and doesn't last long.
 
Gel packs – but they don't last much longer than water and usually can't go under 2 degrees C
 
Dry ice – used mostly by companies, but that's a dangerous gas and comes with risks.
 
That's where we come in - Techni Ice has a proven, scalable solution.
 
Replace all of these with Australian-made Techni Ice - the world's best temperature control solution.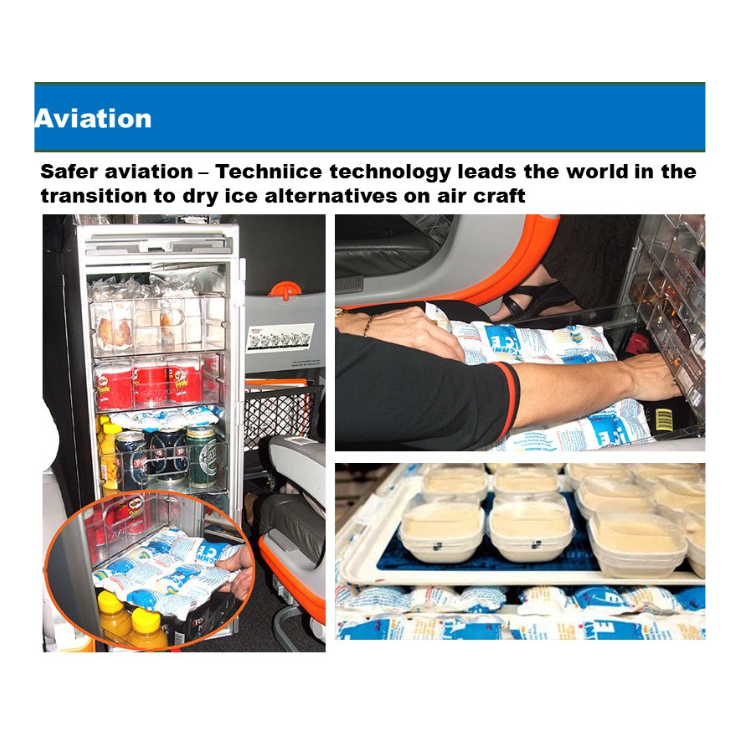 The move from dry ice
We receive thousands of inquiries from medium to large international organizations and government departments that have heard of our products and want to make the switch from dangerous traditional dry ice to Techni Ice. We already supply Techniice to Qantas, FlyDubai, Sri Lankan Airlines, Malaysian Airlines and many more.
We would like to continue to improve the safety of airlines globally by replacing traditional dry ice with Techni Ice. According to an article published on Live Science (Rettner, 2018), if dry ice is stored in an area without proper ventilation, it can lead to harmful effects, including headaches, confusion, disorientation and death for passengers onboard.
Some companies spend millions of dollars on dry ice each year and are desperate to change to a safe solution that eliminates the inherent dangers of dry ice.
Our product range and how they are different
Techni Ice can freeze to a much lower temperature due to the cross-linked polyacrylate polymer technology combined with a unique slow-release woven textile & polyester combination. This enables Techni Ice to hold thermal energy for a significantly longer period of time.

Compared to dry ice, Tedchni Ice:
Comes in a dehydrated form which enables the packs to be sent to customers across the world at a fraction of the freight cost of freighting regular ice packs/gel packs
Is flexible when frozen and can be cut to a smaller size
Is completely non-toxic which enable them to be safely used in a wide range of applications
 
Compared to heat packs, Techni Ice:
Can be safely heated without exploding
Has become a widely used product for services such as Meals on Wheels to deliver hot meals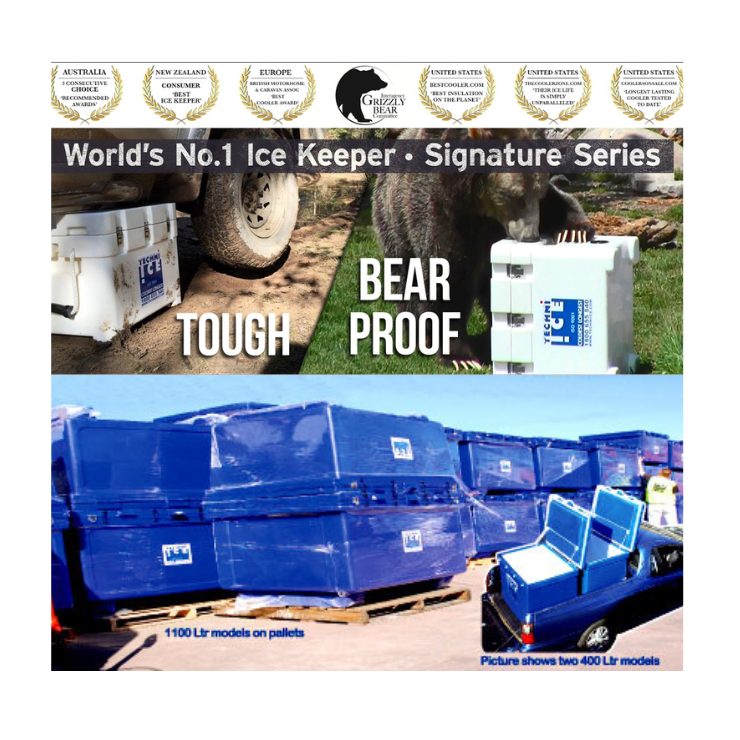 Our ice boxes compared to other brands
Our Signature Series model has been independently tested by various organizations across the world and found to has been proven to maintain temperature longer than every other production model ice box in the world they have been tested against.

Our products have introduced unique features such as a dual airlock seal system, insulated bung, 74mm thick high-density polyurethane insulation, triple stainless steel compression latches, over-engineered rope handles, and airflow design.

Our Signature Series has also passed the American Grizzly bear certification -proving their strong build.

We have various other class-leading thermal products including Commercial Ice boxes as big as 1100L, and High-Performance Cooler Bags that outperform alternate ice boxes out there. We recently added a full range of Techni Ice Tumblers with an over-engineered lid and body design to keep things colder for longer, and insulated dog bowls.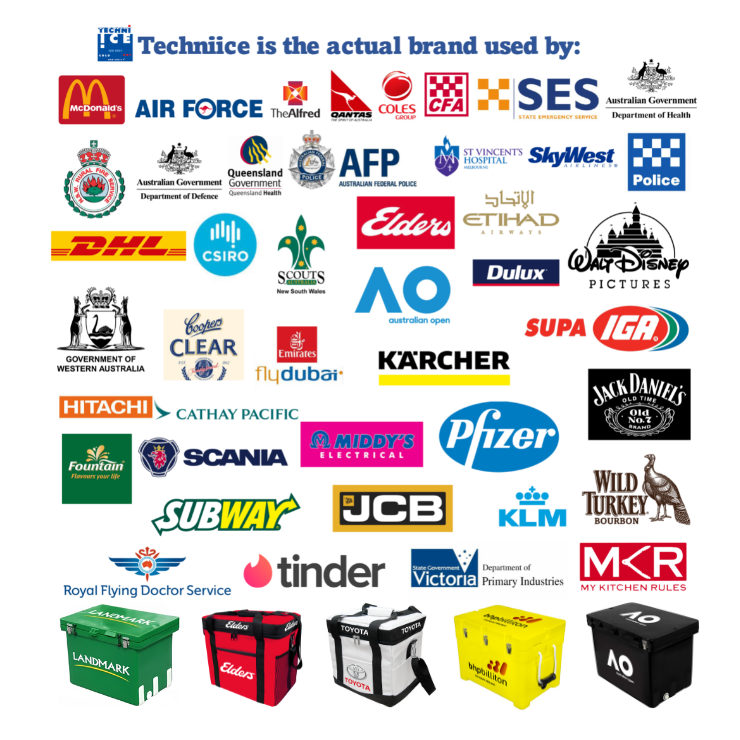 As a Techni Ice share owner, these will be your customers!
Coles Supermarkets - We supply both ice boxes and ice pack solutions to Coles Supermarkets nationally for their online delivery service.
 
We have recently started supplying other major supermarkets in Australia and abroad.
 
As online delivery food services have ramped up, the demand for online delivery solutions has increased dramatically since the start of Covid. Techni Ice has been at the forefront of providing ground-breaking solutions as required.
 
Pfizer and its subsidiaries - We have supplied tens of thousands of custom branded ice boxes to Pfizer and its subsidiary under various custom brand designs (as requested).
 
Australian Government Health Department, other government departments, and corporate customers - We supply our products to many government departments and corporate customers including Department of Defence, Federal Police, Nutrien, Coopers, FlyDubai, Srilankan Airlines, Jetstar, Air France, KLM, Etihad Airways, Ambulance Victoria, Super IGA, NSW Rural Fire Service, and thousands more.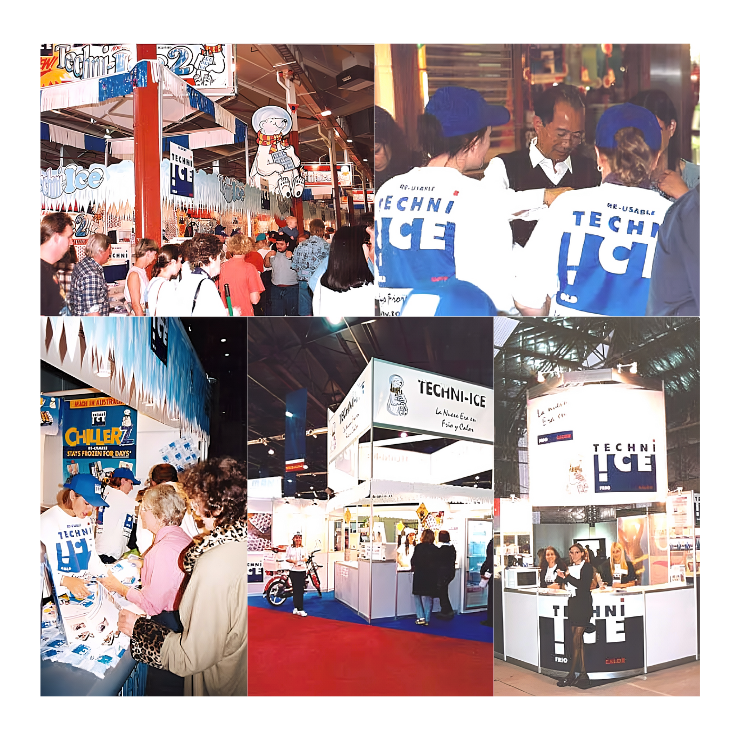 Market size
As per metrics available online, the global ice box market is worth USD 5 billion, the Reusable ice pack market is worth USD 8 billion, and the after-death care services market is around USD 111 billion. This puts Techni Ice's total market size to be at least USD 124 billion.
What next?
Retail Stores and Online Resellers – We've established wholesale partnerships with online marketplaces like Catch and Kogan. We are now beginning to distribute our products through many more retail stores. Why? Because we had an overwhelming response from the limited number of retail stores we trialled with, who quickly placed more orders to replace their fast-selling Techni Ice stock
 
International Trade Shows – Techni Ice and its international distributors have done various successful tradeshows which has increased awareness. We will be found in future trade shows in the USA, Canada, and the UK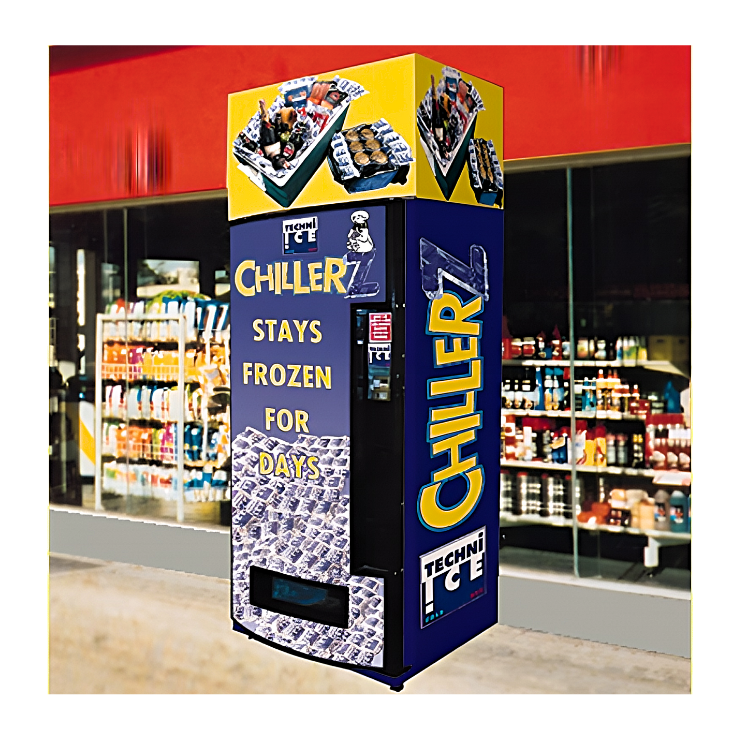 Reducing water wastage globally with Techni Ice
According to Aarhus University, Denmark, if we keep using the water the way we currently do, we will have no water left by 2040.

Although we're an Aussie, fun loving brand, we have serious impact – using Techni Ice instead of a frozen bag of ice means future generations will have more water.

One of our future projects that is currently in the R&D stage is a self-serve Techni Ice vending machine. This will be game-changing, on a global scale, and will give consumers a Reusable, longer lasting choice cooling choice in comparison to traditional bagged ice you find at the servo.

We want to save the enormous amount of water that gets wasted every year in by placing Reusable Techni Ice vending machines in service stations.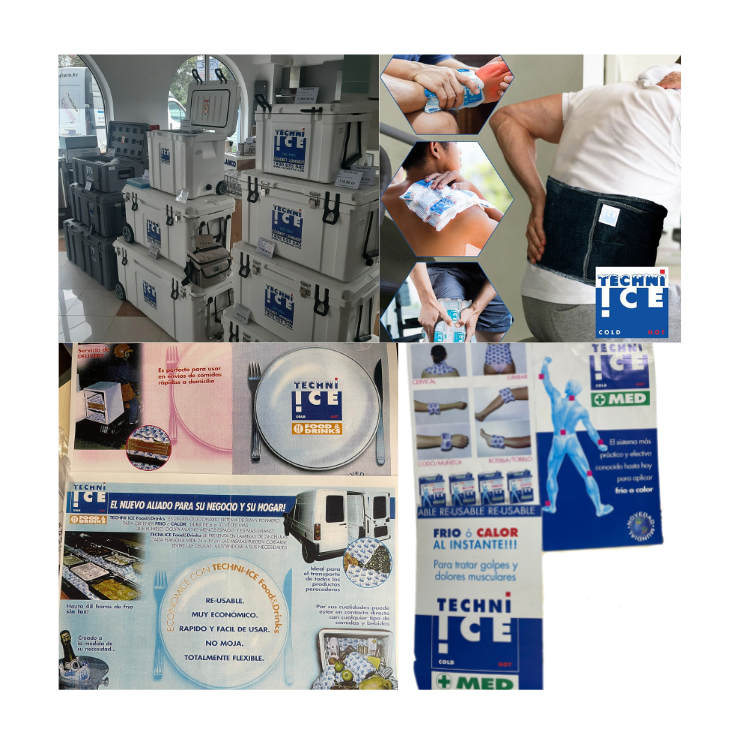 International distribution of Techni Ice
Techni Ice has already had successful long-term distribution partnerships in New Zealand, Malaysia, Philippines, USA, UK, Portugal, South Africa, West Africa, and other countries where container loads of Techni Ice ice boxes and dry ice packs have started to arrive.

In some of these countries, our distributors have printed catalogues targeting the medical segment.

In the last few months, we have established long-term distribution partnerships in Croatia and Hungary. Techni Ice Croatia just went through their summer season and has already been sold out of their first container load of stock.